Al Horford may still be the key piece that makes the Boston Celtics a top threat to the Cleveland Cavaliers in the East, but the way his team scrapped without him in a 107-100 win against the Chicago Bulls suggested he's hardly the only one.
Horford sat out with a concussion, Avery Bradley received a cortisone shot before the game and Jae Crowder crumpled to the floor after 14 minutes with a sprained left ankle…and the Celtics still subdued the previously unbeaten Bulls.
To do it, they leaned on a roster boasting the kind of youth you wouldn't expect to find on a fringe title contender, not to mention a whole bunch of grimy defense and some timely shot-making from a deep bench.
Bradley suffocated Dwyane Wade, holding him to 15 points on 5-of-13 shooting. When occasionally switched onto Jimmy Butler, he was also up for the challenge of harassing the Bulls' best player.
The Celtics got contributions up and down the lineup, with Amir Johnson losing his mind in a 16-point third quarter punctuated by four three-point makes. He finished with 23 points, his highest total since joining Boston last year.
It was enough to elicit this reaction from Bleacher Report's Michael Pina:
Amir Johnson is Klay Thompson mixed with Kareem Abdul-Jabbar crossed with Groot

— Michael Pina (@MichaelVPina) November 3, 2016
Isaiah Thomas turned in a typically acrobatic 23 points, finishing a particularly tough right-handed banker in the final minute that helped seal the win. And before going down, Crowder banged in a pair of first-quarter threes that helped build a double-digit lead.
This wasn't just about guys like Bradley, Crowder and Johnson playing well—and, critically, playing well together. Because while one promising aspect of this Boston team is its developing chemistry, another is the organic growth we should expect from so many relatively inexperienced (but very obviously talented) role players.
Marcus Smart said so himself (via Brian Robb of Bleacher Report):
Marcus Smart on winning without Crowder and Horford: "It just shows how gritty we are. This is a team, not just one player makes it."

— Brian Robb (@CelticsHub) November 3, 2016
For instance, Smart made his season debut and promptly grabbed a tough board in traffic, knocked Butler to the floor and drew a foul posting up Isaiah Canaan. If that wasn't enough of a hint at what the Celtics might do with a little more seasoning, rookie Jaylen Brown and his short shorts came off the bench next.
Brown didn't make a major impact in this one, but his aggression, polish and fully formed in-between game make him a real candidate for big minutes down the line.
The Celtics are unique among the league's upper tier in this regard: They're built to win now and later.
Wednesday served as more evidence that "later" might just mean April 2017—not two or three years down the line. And if the younger players on the roster develop in time to really help Horford and the vets, well…maybe Boston really has something here.
Maybe it has a defense that, after ranking fourth last season, could top the league. And maybe it has the kind of athletic depth that could turn all of those stops into an elite offense by getting out on the break.
Robb feels good about the possibilities there:
I don't think many teams are going to be able to keep pace with the Celtics this year when they are committed to running like this.

— Brian Robb (@CelticsHub) November 3, 2016
Horford's health is a concern, as is Crowder's.
Head coach Brad Stevens relayed a shaky timeline to Jay King of MassLive.com:
Stevens: "Jae sprained his ankle. That's all I know. I was told it would be at least a week and then we'll see after."

— Jay King (@ByJayKing) November 3, 2016
But as long as we can assume the Celtics' established players will be ready late in the year, having them miss time now might actually be a good thing. The young core is going to develop regardless, but more minutes in the immediate future could fast-track the process.
The Toronto Raptors, Charlotte Hornets and Atlanta Hawks will be heard from. Even the Bulls have shown signs of interest in getting involved in the East race.
The Celtics are different, though. They have their star in Horford, but because the surrounding players have shown so much already and could show even more as they mature, Boston is the smart-money bet to give the Cavaliers trouble in the postseason.
DeRozan Going Halfway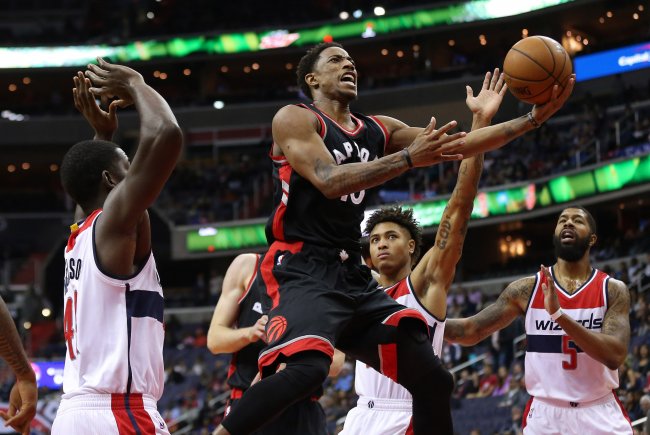 Geoff Burke-USA TODAY Sports

We've said plenty of good things about DeMar DeRozan's start, excusing the ugly process of his scoring (deliberate, plodding isolation mid-rangery) in light of the strong results.
In the Toronto Raptors' 113-103 victory over the still winless Washington Wizards, he put up 40 points on 14-of-23 shooting. He's been a bucket machine, having now scored at least 30 points in every game this season.
But in the interest of fairness: DeRozan spent much of Wednesday's win mailing it in on D.
Everybody—including but not limited to Raptors Republic, William Lou and Eric Koreen of The Athletic—noticed:
DeRozan's defense has been hilariously bad.

— Raptors Republic (@raptorsrepublic) November 2, 2016
Bench DeRozan. Unless you're James Freaking Harden you are not allowed to be THIS negligent on defense.

— William Lou (@william_lou) November 2, 2016
If you can get back in transition defence, you can probably crack Dwane Casey's rotation tonight.

— Eric Koreen (@ekoreen) November 2, 2016
DeRozan was inattentive off the ball and only occasionally interested on it. It didn't matter because he was so fearsome on offense, and the Wizards basically collapsed without John Wall on the floor. Washington's point guard had 33 points and 11 assists, registering a plus-minus of minus-one in a game Washington lost by double digits.
The Wizards, conveniently for DeRozan and the Raps, also mailed it in, per Candace Buckner of the Washington Post:
This team has a light switch and when it's off — man, it is off.

— Candace Buckner (@CandaceDBuckner) November 3, 2016
On balance, DeRozan has been awesome. And it's possible the scoring load he's shouldering makes it hard to play the other end with full vigor. But, hey, we can't spend every roundup gushing over his point totals.
On the 76ers and Life Coming at You Fast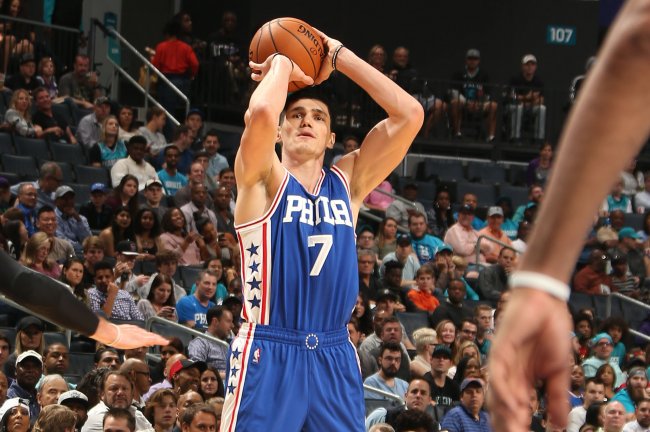 Kent Smith/Getty Images

Remember that glut of ill-fitting bigs that would keep the Philadelphia 76ers from developing all their talent and eventually necessitate a trade? A deal may still happen eventually, but the logjam up front looked pretty un-jammed Wednesday.
The Sixers kept Joel Embiid encased in protective carbonite, Nerlens Noel still isn't back from injury and Jahlil Okafor's role remains limited.
That led to this (via Derek Bodner of Philadelphia Magazine):
All the handwringing over too much depth at center and Ersan Ilyasova is going to play major minutes at the 5 tonight.

— Derek Bodner (@DerekBodnerNBA) November 2, 2016
Ersan Ilyasova, traded to Philly for Jerami Grant on Tuesday, logged 23 minutes and tied for the team high with 14 points in the 76ers' 109-93 loss to the Charlotte Hornets. He spent considerable time at center.
And so: Life comes at you fast.
Stan Van Gundy Has Some Ideas About Rest
I guess we have to start with Brook Lopez hitting four threes in the first half of the Brooklyn Nets' 109-101 win over the Detroit Pistons. It's not every day a guy equals his previous career total for made triples in a single half, but that's exactly what Lopez did.
He finished with 34 points and 11 rebounds, dramatically outplaying Andre Drummond, who managed only six points and six boards in his 25 minutes. You can forgive Drummond, though; upon seeing Lopez attempt a ridiculous eight threes, Drummond probably concluded the game was a dream and spent most of the second half trying to wake himself up.
And it's hard to catch lobs when you're using both hands to pinch yourself.
Here's the thing I was going to highlight until Lopez went bonkers: Stan Van Gundy said some interesting stuff about rest (via Michael Scotto of Basketball Insiders):
Stan Van Gundy had A LOT to say about teams that are resting players in the first week of the regular season. pic.twitter.com/iuh6eem7Lf

— Michael Scotto (@MikeAScotto) November 2, 2016
Everyone's knee-jerk reaction to comments like these is to label Van Gundy a dinosaur and point to the overwhelming information showing heavier workloads lead to injuries. But if the only things we're citing in these conversations are minutes and games, isn't that an incomplete way to think about this?
Van Gundy may have something. Maybe sitting guys out in practice, giving them more off days or whichever "other ways" he's referencing are significant.
The discussion is an ongoing one, but Van Gundy raises a worthwhile point.
Two Very Different Highlights
James Harden did this to Derrick Rose in the Houston Rockets' walkover 118-99 win against the New York Knicks:
And the floor at Madison Square Garden did this to Sam Dekker:
WATCH: The Rockets' Sam Dekker goes from fast break to broken in 7 seconds or less: https://t.co/7NYIw8Gk80 https://t.co/fYF6OKLwC7

— Dan Devine (@YourManDevine) November 3, 2016
Call it even?
And don't worry. Dekker's fine:
The floor monster caught me tonight… that's what happens when white guys get excited to try and dunk on somebody. #JustShootThrees 😂😂

— Sam Dekker (@dekker) November 3, 2016
Things Are Going Well for Luke Walton
First, the Los Angeles Lakers earned a surprising road win over the previously undefeated Atlanta Hawks, riding D'Angelo Russell's 23 points to a 123-116 result.
Then, the Lakers head coach (and former Golden State Warriors assistant) noticed a Cleveland team that once had a 3-1 lead in some trouble, according to ESPN.com's Baxter Holmes:
Lakers coach Luke Walton looked at a TV just now, saw the World Series score, laughed & said with a huge grin, "How's that feel, Cleveland?"

— Baxter Holmes (@BaxterHolmes) November 3, 2016
Blown leads on big stages aside, Walton has the Lakers leaning on young players, showcasing some exciting offense and competing with some of the league's best teams. Good times.
The Utah Jazz Get What They Need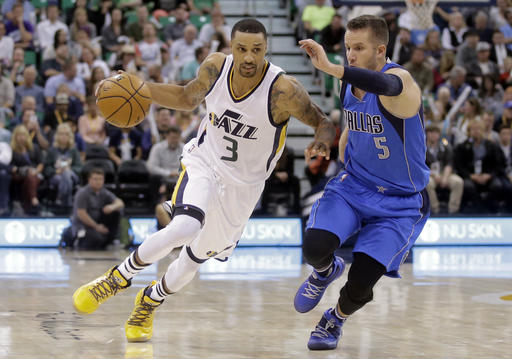 Rick Bowmer/Associated Press

Not because they were in a tailspin or had some score to settle with the Dallas Mavericks. No, their 97-81 victory was important because the last thing the Jazz needed after their best win of the young season (Tuesday's 106-91 road triumph over the San Antonio Spurs) was a letdown.
It could have happened. The Mavs, now 0-4, came in desperate for a win, and they got Dirk Nowitzki back from his combo platter of Achilles soreness and a stomach bug. With Utah coming home to play the second end of a back-to-back after that spirited win against the Spurs, a slip was foreseeable.
But Utah didn't falter.
George Hill continued to be Utah's best player, posting 25 points, six rebounds and four assists while also drilling four threes and running a mean pick-and-roll. Rudy Gobert managed 12 points and 12 rebounds while holding down the lane.
Despite Gordon Hayward's ongoing absence, Derrick Favors' minute limitations and another missed game for Boris Diaw, the Jazz avoided a clear trap game.
And they did it on fumes, as Tony Jones of the Salt Lake Tribune observed:
The Jazz have no legs, but they are playing very well defensively tonight. Only thing keeping them in the lead right now

— Tony Jones (@tribjazz) November 3, 2016
They'll need to be at full health before we can all start getting excited about the 50-win season we all want to see (and that just got harder with Alec Burks undergoing another procedure on his perma-injured ankle), but this was a solid step in the right direction.
Bledsoe Gets Phoenix in the Win Column
Sure, it came against a Portland Trail Blazers team staggering on the second night of a back-to-back (the first of which featured a drubbing by the Golden State Warriors), but the Phoenix Suns' first win still counts.
Eric Bledsoe hit the big one in overtime to get the 118-115 victory.
The winless New Orleans Pelicans are on the schedule next. Who's up for a streak?
OK, This One Counts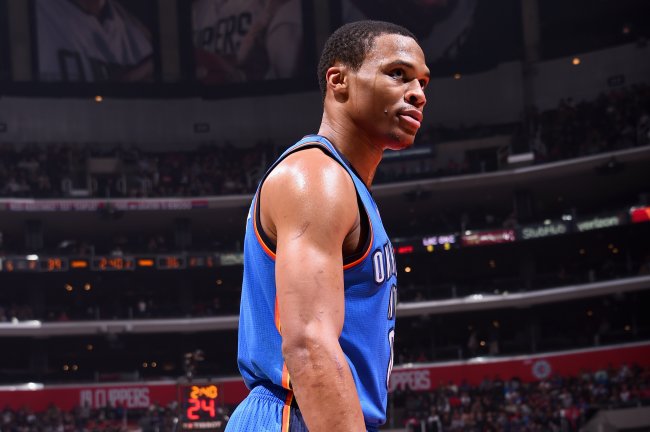 Juan Ocampo/Getty Images

The Oklahoma City Thunder beat the Los Angeles Clippers by a final of 85-83, giving OKC its first quality win of the year. With apologies to the Lakers, Suns and Sixers, Oklahoma City's 3-0 record coming in was a little dubious.
Russell Westbrook did everything himself, including nearly costing the Thunder the game. He added a whopping 10 turnovers to his 35 points, as no other Oklahoma City player scored in double figures. He and the Thunder remain unbeaten, but they'll have to be a whole lot better Thursday.
That's when Russ will tangle with Kevin Durant and the Warriors for the first time. Get your popcorn.
Follow Grant on Twitter and Facebook.
Stats courtesy of NBA.com.
Wednesday NBA Roundup: Boston Celtics Solidifying Status as East's 2nd-Best – Bleacher Report