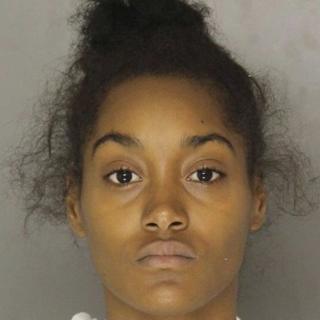 A mother from Pennsylvania allegedly smothered her baby son to death and then sent his father videos of his lifeless body, police say.
Christian Clark, 21, of McKeesport, has been remanded in custody on criminal homicide charges over the killing of Andre Price III, aged 17 months.
She has also been charged with trying to kill her two-year-old daughter.
Ms Clark had been locked in a furious text message row with baby Andre's father, Andre Price Jr.
Police said in a criminal complaint that Ms Clark was upset because she believed Mr Price planned to have sex with another woman.
Over the course of Tuesday evening she sent a series of increasingly angry messages threatening her children.
"She was sending [messages] before the act, at the time of the act and following the act," the Pittsburgh Post-Gazette quoted Allegheny County Police Superintendent Coleman McDonough as saying.
'Really snapped'
According to the criminal affidavit, Ms Clark sent dozens of threatening messages including: "Ya kids ain't safe here I don't want them here", and "Answer me or I'm going to jail for child endangerment".
She killed Andre Price III by pressing his face into an air mattress in her sitting room before trying to do the same to her daughter, Angel, police said.
Ms Clark allegedly sent a video to her boyfriend around 2200 that showed both children lying face down on the mattress.
At one point after announcing she was going to kill the children she allegedly sent a laughing emoji with tears in its eyes.
"Ah, look Angel is still alive and sweating," she can reportedly be heard saying on the video in relation to her daughter. "Your son on the other hand is not even breathing," she is quoted as saying.
"I wasn't even gonna send you videos but pretty sure ya son is legit dead," the police affidavit quotes her as saying.
"I'm going to jail either way, hope it was worth it."
Mr Price only occasionally responded during the entire exchange, at one point informing Ms Clark he was not coming to the house and ordering her to leave the children alone.
He told her to try and wake their son up just after 2300, when Ms Clark texted: "I really snapped this time."
Ms Clark is being held without bail. A preliminary hearing for the case is set for 16 November, US media report.
US killing: Mother 'sent video of dead son to partner'