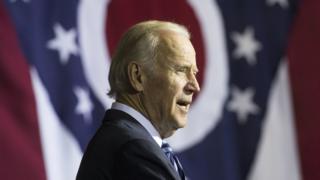 Vice-President Joe Biden is being considered for the secretary of state job if Hillary Clinton becomes president, US media are reporting.
Politico first reported Mr Biden was "at the top of the internal short list" of the Clinton team who are planning for her winning the White House.
With 11 days to go, she leads Republican Donald Trump in the polls.
Mr Biden, 73, was a senator for 36 years and chaired the Senate Foreign Relations Committee.
So he has the foreign affairs pedigree for secretary of state, which is in effect the country's top diplomat, but has a reputation for being gaffe-prone.
Recently he has been very critical of Mr Trump for being too close to Russian President Vladimir Putin.
He also said he wished he was still at high school so he could take the billionaire "behind the gym" to fight him.
He has a very close relationship with the president despite raising eyebrows early on by referring to the then Senator Obama as "the first mainstream African American who is articulate and bright and clean".
In the summer, he went to Latvia and assured the Baltic states that the US would defend Nato countries against possible Russian aggression.
Mr Biden pondered a run at the presidency himself last year but said the recent death of his son Beau meant he would not have been able to focus fully on a campaign.
---
Unusual move – Anthony Zurcher, BBC News, Washington
This was supposed to be Joe Biden's valedictory tour; his fleeting final moments in the corridors of power. Instead he's again the subject of political speculation, which is exactly how he seems to like it.
This time around the Clinton team is leaking that he could be up for secretary of state in a potential administration. Last year Mr Biden put himself in the spotlight by publicly grappling with whether to run for president.
It would be unusual for a vice-president to hop down a rung in the ladder to secretary of state. It's the top job or bust for most occupants of Mr Biden's office. Then again, it's a position for which the former chair of the Senate foreign relations committee, who was added to Barack Obama's ticket to give it foreign policy gravitas, seems well suited.
Mr Biden may follow through on his promise to fade from the stage, perhaps to write a book. The Clinton team may just be floating an inconsequential trial balloon or trying to drum up pre-election enthusiasm within the party's base. If the offer does end up on Mr Biden's table, however, don't be surprised if he takes the plunge.
---
What happens next?
Mrs Clinton and Mr Trump will spend the remaining days before the election criss-crossing the country in their bid to persuade undecided voters. Expect to see lots of appearances in battleground states such as Ohio, North Carolina, Florida and Pennsylvania
Voters will go to the polls on Tuesday 8 November to decide who becomes the 45th president of the US
The new president will be inaugurated on 20 January 2017
Predict the president
US election: Clinton 'eyes Biden for top diplomat job'