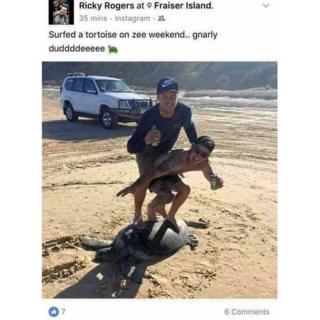 Two men who posted a photograph of themselves "surfing" on the back of a turtle on an Australian beach have sparked outrage and calls for them to be fined.
Thousands of people have condemned the photograph, which was originally posted by Ricky Rogers on his Instagram site.
It shows two men pretending to surf on the turtle on the beach in Fraser Island, Queensland. The caption on the post read: "Surfed a tortoise on zee weekend.. gnarly duddddeeeee."
More than 10,000 people shared the picture when it was re-posted by wildlife photographer Matt Wright, who commented: "When your brain is the size of a peanut, your thought process is ridiculous. Share this around and let's see if we can get this fool a nice hefty fine."
Some people who shared Mr Wright's post included a link to Mr Roger's Facebook account, encouraging others to voice their criticism directly.
However, the security settings on the page have since been increased so they can no longer be accessed by people he does not know. It appears his Instagram account has also been closed. We haven't therefore been able to independently verify the picture.
Queensland Parks and Wildlife Services has said there is some evidence to suggest the turtle was dead when the photograph was taken but the pair could face a fine if they are found to have interfered with a natural resource.
A spokesman confirmed that rangers were taking the matter seriously and investigating further.
By Annie Flury, UCG and Social News Team
Two men 'surfing' on a turtle may face fine}