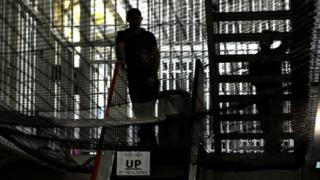 Justice Secretary Liz Truss is due to hold urgent talks with leaders of the Prison Officers Association as concerns grow about safety in jails.
The union had planned meetings outside each jail on Tuesday, to highlight fears over increasing violence and suicides in English and Welsh prisons.
The move could have been seen as an unofficial walkout by the union, which is banned from staging strikes.
It was called off after branch meetings to talk about matters were authorised.
The POA had also said that officers would impose their own working practices, allowing only small numbers of prisoners out of cells at a time.
However, after discussions with Michael Spurr, head of the National Offender Management Service, the union backed down and agreed to hold its meetings in private.
Mr Spurr promised there would be "urgent" talks about health and safety and recruitment problems.
He said Ms Truss was happy to meet union leaders, ahead of a major announcement about her plans for prison reform on Thursday.
On Tuesday, she told the Commons that there was a "serious issue with violence and levels of suicide" and stressed that addressing the situation was her top priority.
Last month, former chief inspector of prisons Prof Nick Hardwick said rising suicides, assaults and murders in jails were proof of the "loss of control".
As such, he said, the government's ambitious plans to improve rehabilitation and education and tackle extremism were "simply not achievable".
Latest figures show a new high of 65 assaults in jails every day.
In the year to June, assaults on staff jumped by 43% to 5,954, with 697 of these recorded as serious.
The government had previously announced an extra £10m to be spent on prison safety, and 400 extra staff due to be deployed by March next year.
Truss to hold talks with prison officers over violence}