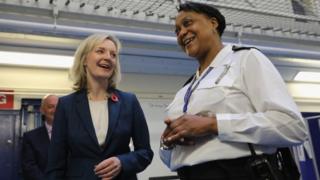 An extra 2,100 prison officers are to be recruited to ease staffing shortages in jails in England and Wales, Justice Secretary Liz Truss will say later.
Unveiling a White Paper, Ms Truss will say the new recruits should help to reduce attacks on staff and prisoners.
She will detail plans for more autonomy for governors and ensure drug tests for inmates when they enter and leave jail.
But Labour said the speech would be a "blatant PR stunt" unless comprehensive plans to address staffing cuts.
Since 2010, prison officer numbers have fallen from about 25,000 to 18,000.
At the same time, the number of prisoners has risen slightly.
The extra officers, costing £100m a year, will not restore staffing to the levels seen before 2010.
How dangerous are our prisons?
The debate around escalating levels of violence, suicide and self-harm in prisons has increasingly focused on staff shortages.
Union leaders warned on Wednesday that prisons were facing bloodbaths unless more staff were recruited and retained.
Steve Gillan, of the Prison Officers Association, said proper staffing levels were needed if officers – not inmates – were to be in charge of jails.
Warnings also came from prisoners on the inside, with one inmate at London's Pentonville telling the BBC that knives are flown in by drones and razors are melted into toothbrushes to make weapons.
Shadow justice secretary Richard Burgon said Ms Truss needed to "regain the trust of prison governors and prison officers" with her speech.
"The reduction by 25% of frontline prison officers mean those that remain are overstretched, overwhelmed and without support," he said.
"Without a comprehensive plan to deal with these issues then her speech will be nothing more than empty words and a blatant PR stunt."
The latest figures show a new high of 65 assaults in jails every day.
In the year to June, assaults on staff jumped by 43% to 5,954, with 697 of these recorded as serious.
Other measures expected to be laid out in the Prison Safety and Reform White Paper include:
Testing all offenders for drug use on entry and exit from prison
Testing of offenders' levels of English and maths so progress made on the inside can be measured, with results published in new prison league tables
A new duty on the secretary of state to intervene when prisons are failing
No-fly zones over prisons to stop drones dropping drugs and contraband into jails
Last month, Ms Truss announced an extra 400 prison officers would be recruited, which means there will be 2,500 new recruits joining the service altogether.
BBC home affairs correspondent Danny Shaw said it was a significant increase though it would still leave staff numbers below the 2010 level.
In echoes of her predecessor Michael Gove's reform plans, Ms Truss is also planning to give governors more say over how their prisons are run and make sure they are held to account for levels of reoffending and drug misuse.
If jails are assessed to be failing, the justice secretary will have a new legal duty to intervene.
Truss: Extra 2,100 prison officers to be deployed}