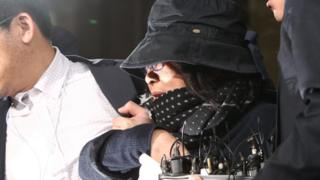 The woman at the centre of a political scandal threatening the position of South Korea's president has been detained.
Choi Soon-sil, a long-time friend of President Park Geun-hye, is accused of influence peddling and interfering in state affairs.
She was interrogated on Monday after apologising for an "unpardonable crime".
Prosecutors have 48 hours to decide if they will formally arrest Ms Choi.
She was placed under emergency detention late on Monday with prosecutors saying they feared she may destroy evidence and was at flight risk, according to South Korea's Yonhap News Agency.
"She has fled overseas in the past, and she doesn't have a permanent address in Korea, making her a flight risk," a prosecution official told Yonhap. "She is also in an extremely unstable psychological state."
On Tuesday morning, a construction vehicle was driven into the Seoul Central District Prosecutors' office, injuring a security guard and destroying facilities.
The 45-year-old man said he committed the crime to "help Choi Soon-sil die", after Ms Choi had on Monday told reporters that she "committed a sin that deserves death", when she was on her way to meet prosecutors.
Last week, Ms Park publicly apologised, admitting "certain documents" had been shared with Ms Choi and she had been allowed to edit political speeches.
"Choi advised me on expressions in my speeches and public relations during the last presidential campaign and she continued to help me for a certain period of time after I took office," Ms Park said.
"I deeply apologise to the people", she said, before bowing to the camera.
That did little to suppress public anger and about 8,000 people protested on Saturday, some calling for Ms Park's resignation.
Ms Choi is the daughter of shadowy religious cult leader, Choi Tae-min, who was Ms Park's mentor until his death in 1994.
South Korea scandal: President Park's friend Choi detained}