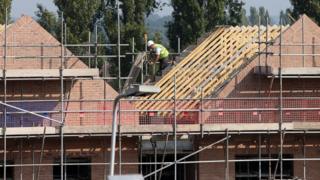 The government has made a "slow start" towards its promise to release enough of its surplus land to build 160,000 new homes by 2020, MPs say.
The Public Accounts Committee said progress had been made but warned that many sites earmarked were still in use.
After a year of the programme, the government had disposed of 5% of the required land, it said.
The government said it had "acted quickly to free up public land", enabling 100,000 homes since 2010.
In its report, the Public Accounts Committee said the government had improved on a previous scheme by monitoring the number of homes built as a result of the land sales and setting out each department's responsibilities.
The Ministry of Defence is expected to free up land with capacity for 55,000 homes, the Department for Transport 38,000, the Department for Communities and Local Government (DCLG) 36,000 and the Department of Health 26,000.
By the end of March, almost a year into the scheme, enough land to build 8,580 homes had been disposed of, it said, with variations in different departments' performance.
While DCLG had hit 12% of its target, the Department for Transport had disposed of just 0.2% – enough for 71 homes.
In September, the Ministry of Defence announced it would sell 13 sites to provide land for up to 17,017 homes.
They included an RAF base, barracks, ex-World War Two airfields and a chaplaincy centre as well as two golf courses at RAF Henlow and Southwick Park in Hampshire.
But the committee warned that a "significant acceleration" in the latter years of the current Parliament would be required to hit the target, suggesting either that departments "took their eye off the ball" after the last programme finished, or were struggling to find suitable sites.
It also said most of the sites being identified were "speculative", with many still being used to deliver public services.
More than half of the total sites identified so far are considered "high risk", it said, adding: "Many sites identified for disposal are still in operational use by departments, and their disposal depends on other policy decisions."
Labour MP Meg Hillier, who chairs the committee, said: "There is a desperate need for new homes and public land is an irreplaceable asset.
"Taxpayers clearly have a right to know whether they are getting a good deal from its sale and how many homes are being built as a result."
She welcomed improvements made from the previous programme, but added: "Sluggish sales have hindered progress towards the 2020 target while questions continue to hang over the potential of many sites earmarked for sale and whether homes will be in the places people want to live."
Responding to the report, Daniel Bentley, of the Civitas think tank, said: "Given the scale of the housing shortage, it is depressing that so little use is being made of surplus public sector land."
He said a better option might be for public bodies to retain land and commission builders to put up homes that could be rented out.
A DCLG spokesman said: "Previous governments hoarded swathes of public land, blocking vital housing sites from being built and costing taxpayers a fortune in upkeep costs."
He added: "We are also taking direct action, by using surplus public land and £2bn of investment to accelerate delivery of thousands of new homes during this Parliament."
'Slow start' for homes on public land plan}