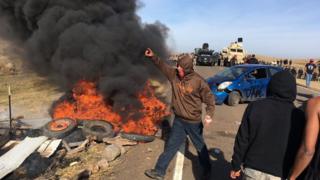 Riot police have begun removing protesters from private land in the path of the Dakota Access pipeline.
"Non-lethal" shotgun bean bag rounds and pepper spray were being used to subdue protesters at a North Dakota camp, the Associated Press quoted a state official as saying.
Two helicopters and a fixed-wing aeroplane flew overhead as officials made warnings over a loudspeaker.
The $3.7bn (£2.8bn) Dakota Access pipeline has prompted huge protests.
Native Americans have halted its construction in North Dakota. The pipeline will run 1,168 miles (1,870km) through Iowa, Illinois, and North and South Dakota.
Dozens of officers in riot gear, some armed, moved in on Thursday assisted by trucks and military Humvees.
As the police moved in, protesters parked cars on the main road near the camp and started a fire there.
Police are firing bean bags in response to "aggressive" tactics by protesters, including stone-throwing, state emergency services spokeswoman Cecily Fong said.
Bean-bag shotgun rounds are designed to incapacitate people without causing death or permanent injury.
The Morton County Sheriff's office said the operation began at 11:15am local time (18:15 GMT) and that protesters had refused to leave voluntarily on Wednesday.
Sheriff Kyle Kirchmeier said the protesters were a "public safety issue" and their actions had "forced law enforcement to respond".
"We cannot have protesters blocking county roads, blocking state highways or trespassing on private property," he said in a statement.
But Robert Eder, a 64-year-old Vietnam War veteran from the Standing Rock Reservation, said protesters were not scared.
"If they take everybody to jail, there will be twice as many tomorrow, and every day that passes more will come," he said. "If they raze these teepees, tomorrow we will be back."
Hundreds of protesters have camped on the federally owned land for months, with more than 260 people arrested before Thursday's police operation.
Native Americans say the pipeline will desecrate sacred land and damage the environment.
Energy Transport Partners, the company behind the project, has said it will boost local economies and is safer than transporting oil by rail or road.
The protest has drawn the attention of activists and celebrities, including actress-activist Shailene Woodley and Green Party presidential candidate Jill Stein.
---
More on this story
Riot police move in on N Dakota pipeline protesters