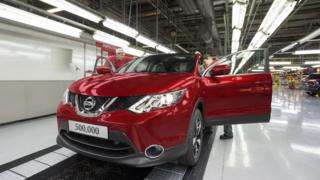 Nissan has confirmed it will build both the new Qashqai and the X-Trail SUV at its Sunderland plant in the first major development for the car industry since the Brexit vote.
The Japanese company's commitment to Britain's biggest car plant had been in doubt following the referendum.
Carlos Ghosn, Nissan chief executive, said government "support and assurances" allowed it to decide to make the two new cars in Sunderland.
The decision will secure 7,000 jobs.
Mr Ghosn said he welcomed prime minister Theresa May's "commitment to the automotive industry in Britain".
Last month he warned that Nissan may not invest in the Sunderland plant unless the government guaranteed compensation for costs related to any new trade tariffs resulting from Brexit.
Mrs May described the announcement as "fantastic news", adding: "This vote of confidence shows Britain is open for business."
Business Secretary Greg Clark said: "The fact Nissan have not only made a long-term commitment to build the next generation Qashqai and X-Trail at Sunderland, but decided to upgrade their factory to a super-plant, manufacturing over 600,000 cars a year, is proof of the strength of the sector."
Building the X-Trail SUV at is an unexpected addition to the model line-up at Sunderland, which makes almost one in three cars built in Britain. Last year the plant produced 475,000 vehicles last year – 80% of which were exported.
Sunderland opened in 1986 and has produced almost nine million cars over the past three decades.
Production of the next Qashqai model is expected to begin in 2018 or 2019.
Nissan to build new models in Sunderland}