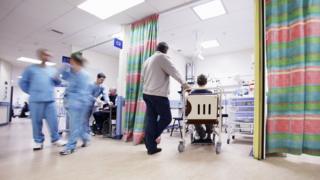 A group of MPs says the government is wrong to keep claiming it will have allocated an extra £10bn to the NHS in England by the end of the decade.
The Health Committee has written to the chancellor to say using the figure gives the "false impression that the NHS is awash with cash".
It is calling for more NHS funding to be announced in November's Autumn Statement.
The government insisted the £10bn figure was accurate.
The Health Select Committee, chaired by Dr Sarah Wollaston, has been hearing evidence over recent months on the state of NHS finances.
Its letter says what it was told by senior NHS figures "clearly demonstrated the financial pressure facing the NHS".
But it warned that "the extent of this pressure is not sufficiently recognised" by government.
Ministers regularly state that there will be £10bn extra in funding for the NHS by 2020-21.
The £10bn figure is calculated in real terms once inflation has been taken into account and includes £2bn which was announced in the last Parliament.
The health committee said in July that it calculated the true figure to be about £4.5bn.
'Pressure is building'
The committee called on Chancellor Philip Hammond to "seriously consider" finding more money for the NHS – and social care – in next month's Autumn Statement.
Richard Murray, from think tank the King's Fund, said: "The most urgent priority for the Autumn Statement is to increase funding for social care.
"Years of budget cuts have had a significant impact on older people, their families and carers and are exacerbating pressures on the NHS, with record numbers of patients who are fit to be discharged but delayed in hospital."
He added: "It is no longer credible to argue that the NHS can continue to meet demand for services and deliver current standards of care at the same time as staying within its budget."
Anita Charlesworth, director of research and economics at the Health Foundation, said: "The Autumn Statement is an opportunity for the government to take immediate action to support social care.
"But for the health service pressure is building, and building fast.
"With funding growth set to slow sharply from 2018, it's hard to see how the range and quality of services for patients will be sustained."
A government spokesman said there would be a "£10bn real-terms increase in its annual funding by 2020-21, for hospitals, GPs, and mental health services.
He said: "It is wrong to suggest otherwise.
"We have also allowed local government to increase social care spending in the years to 2020, with access to up to £3.5bn of new support by then."
NHS funds need urgent boost, say MPs}