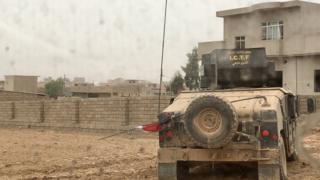 Iraqi forces have for the first time entered the eastern outskirts of Mosul, as they attempt to drive Islamic State (IS) militants from the northern city.
A BBC correspondent travelling with the Counter-Terrorism Service troops says they are facing very stiff resistance.
Rocket-propelled grenades and small arms fire are being directed at them.
Iraqi Prime Minister Haider al-Abadi has told IS militants dug in inside Mosul, which they have held since June 2014, to "surrender or die".
Speaking at the Qayyarah airbase south of the city on Monday, Mr Abadi declared that government forces were approaching from all angles and would "cut off the head of the snake".
Read more:
About 50,000 Iraqi security forces personnel, Kurdish fighters, Sunni Arab tribesmen and Shia militiamen are involved in the two-week-old offensive to drive IS militants out of their last major urban stronghold in the country.
CTS units retook Bazwaya, the last village before Mosul's eastern outskirts, in a dawn assault on Monday and then advanced on the Kukjali industrial zone.
They moved out again shortly before first light on Tuesday, this time with the aim of entering Mosul, almost two-and-a-half years since it fell to IS.
If the troops can establish a foothold, it will be a big day for Iraq and all the other countries involved in the fight against the jihadist group, our correspondent says.
However, they are coming up against much more fierce resistance than he has seen in the past few days.
The troops have responded to the RPG, machine-gun and sniper fire with heavy weapons, and also by calling in air strikes by the US-led coalition against IS.
The Iraqi army's ninth armoured division is moving along the path cleared by the CTS troops and is reportedly 5km (3 miles) from the city limits.
Other army and Kurdish units are advancing from the south and north, while the Shia-led Popular Mobilisation force is seeking to seal off the western outskirts.
Before the operation began on 17 October, there were believed to be between 3,000 and 5,000 militants remaining in Mosul, along with up to 1.5 million civilians.
More than 17,900 residents have fled so far and, according to the UN's worst-case scenario, as many as 700,000 others could follow suit.
Mosul battle: Iraqi special forces enter city limits}