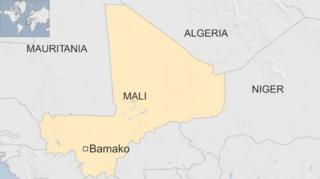 A tourist resort in Mali popular with Westerners is under attack by gunmen, a spokesman at the security ministry has told Reuters.
Nearby residents reported hearing shots fired at the luxury destination.
The spokesman said the attack was ongoing at Le Campement resort in Dougourakoro, to the east of the capital Bamako.
Malian troops and soldiers from France's Bakhane counter-terrorist force are at the site.
There was no information immediately available on casualties.
"Security forces are in place. Campement Kangaba is blocked off and an operation is under way," Security Ministry spokesman Baba Cisse told Reuters by phone.
Mali has been fighting a jihadist insurgency for several years, with Islamist fighters roaming the country's north and centre.
In November 2015, at least 20 people were killed when gunmen took guests and staff hostage at the Radisson Blu hotel in Bamako.
Al-Qaeda's North African arm, Al-Qaeda in the Islamic Maghreb (AQIM), said it was behind that siege.
Mali has been in a state of emergency since the Radisson Blu attack. It was extended for a further six months in April.
The country's security has gradually worsened since 2013, when French forces repelled allied Islamist and Tuareg rebel fighters from parts of the north.
French troops and a 10,000-strong force of UN peacekeepers have been battling to stabilise the former French colony.
Mali tourist resort 'under attack'