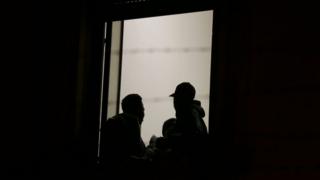 A leading human rights group has accused Italian police of using violent tactics to fingerprint migrants.
Amnesty International said it had 24 accounts of ill treatment, including beatings and electric shocks.
There was no immediate response to the allegations from Italy, which has always said it treats migrants with professionalism and care.
Many irregular migrants are reluctant to be fingerprinted, fearing they will not be able to leave Italy.
EU law says migrants must stay in the first country they reach – determined by where they give their fingerprints.
'Beaten, slapped, electrocuted'
Amnesty said the behaviour of most Italian police officers involved was professional but it called for an independent review of the allegations.
"The European Union's pressure on Italy to 'get tough' on refugees and migrants has led to unlawful expulsions and ill treatment which in some cases may amount to torture," the organisation said.
The report quoted a man named as Adam, a 27-year-old from Darfur in Sudan, who said he had been beaten and subjected to electric shocks before being made to strip naked.
A 25-year-old woman from Eritrea said she had been slapped repeatedly in the face by a policeman until she agreed to be fingerprinted, and a 16-year-old boy and a 27-year-old man said police had applied pain to their genitals.
The older man said: "I was on a chair made of aluminium, with an opening on the seat. They held my shoulders and legs, took my testicles with the pliers, and pulled twice. I can't say how painful it was."
Matteo de Bellis, Amnesty's Researcher on Italy, told the BBC that migrants had been subjected to "appalling abuse".
"I have gathered consistent testimonies of people who told me how they were beaten, slapped, but even electrocuted by means of stun batons, people who have been threatened, people who have been arbitrarily detained just to force them to give their fingerprints," he said.
Mr de Bellis said Amnesty had sent its report to the Italian interior minister and had asked for a response to the allegations but had not received a reply.
Amnesty criticised the EU's so-called "hotspot" approach – designed to identify and fingerprint new arrivals to front-line EU countries such as Italy – saying it had led to violations of migrants' rights.
"The hotspot approach, designed in Brussels and executed in Italy, has increased, not decreased, the pressure on front-line states," said Mr de Bellis.
"It is resulting in appalling violations of the rights of desperately vulnerable people,"
More than 150,000 migrants have been rescued from the Mediterranean and taken to Italy so far this year and more than 470,000 have reached the country by boat over the past three years.
Many thousands have died making the crossing, including at least 3,750 this year alone.
Italy migrants: Amnesty accuses police of torture