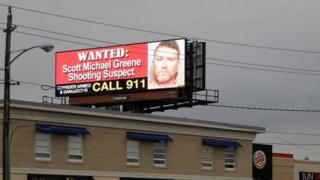 Authorities in the US state of Iowa have charged a man with two counts of first-degree murder in the ambush-style killings of two police officers.
Scott Greene, 46, was arrested after turning himself in hours after the shootings early on Wednesday in the Des Moines area.
He is accused of murdering Justin Martin, 24, and Anthony Beminio, 38, in separate incidents.
The officers were both shot dead while sitting in their stationary squad cars.
What we know about the Iowa suspect
How many US police officers die each year?
The motive for the attacks is unclear. However, police have confirmed that Mr Greene was known to them.
He had been involved in an incident at a school involving the waving of a Confederate flag in front of black people.
The Confederate flag is widely seen as a symbol of slavery.
Iowa police killings: Man charged with officers' murders