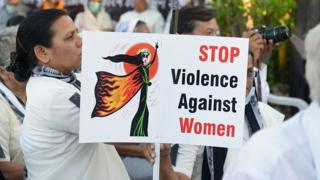 A woman in the south Indian state of Kerala has alleged that police asked her lewd questions when she tried reporting that she had been gang raped.
She said an officer loudly asked her which man "gave her the most pleasure" and which "size she liked best" when she told them she had been assaulted two years ago by a group of men.
The unidentified woman says the "brutal treatment" forced her to withdraw her complaint against her attackers.
The police have denied the allegations.
The woman, a mother of two, said one of her attackers was an influential local politician who had told her to withdraw her complaint or "face the consequences".
"They told me they would kill my children so I took back the complaint," she said, adding that the "humiliation" she suffered at the police station was even worse than the rape itself.
Outrage after gang rape victim assaulted again 'by same men'
Bollywood film attempts to take on India's 'rape culture'
Correspondents say that the harassment of rape victims by authorities is not a new phenomenon.
The woman met reporters with renowned local dubbing artist and social worker Bhagya Lakshmi.
Ms Lakshmi said the woman had called her while she had been presenting a show, appealing to women to come forward about incidents of violence against them.
Scrutiny of sexual violence in India has grown since the 2012 gang rape and murder of a student on a Delhi bus.
However, brutal sexual attacks against women and children continue to be reported across the country.
India rape victim alleges police asked her about 'pleasure'}