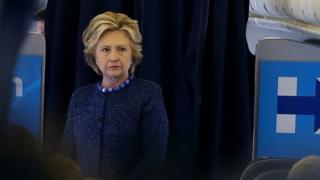 FBI director James Comey has told Congress the bureau is reopening its inquiry into Hillary Clinton's emails.
Investigators have discovered new emails "in connection with an unrelated case… that appear to be pertinent to the investigation", he said.
Mr Comey said investigators would determine whether the emails contain classified information.
The FBI has already found the Democratic candidate had classified information on a private email server.
Mr Comey had previously called Mrs Clinton's handling of classified information during her time as secretary of state "extremely careless", but cleared her of any criminal wrongdoing.
The FBI chief said in his letter to Congress he "cannot yet assess whether or not this material may be significant, and I cannot predict how long it will take us to complete this additional work".
---
How big is this? Anthony Zurcher, BBC News, Washington
It could be nothing. It could be everything. And it almost certainly won't be resolved before Americans head to the polls in just under two weeks.
The letter from Mr Comey to Congress is frustratingly vague. There's no information on what the "unrelated case" is that led to a re-opening of its investigation into Hillary Clinton's server, for instance, or how many emails are in question. That will only fuel the rampant speculation already breaking out, with leaks from "government sources" in the coming days sure to fan the flames.
Mrs Clinton's critics will go on the attack, using the latest news to support their claims that the former secretary of state engaged in malfeasance. Her supporters will spend the next few days in a defensive crouch, trying to assess how bad the damage could be
What's certain, however, is that whether this turns out to be a big deal or not, it places the spotlight on all the wrong places for the Clinton campaign. It all but guarantees that even if she wins White House, the early days of her presidency will be dogged by this long-running political imbroglio.
---
The potential bombshell comes just 11 days before Americans go to the polls in the presidential election.
Mrs Clinton is five points ahead of her Republican rival Donald Trump, according to a Real Clear Politics average.
She has yet to respond to the latest developments, which occurred during her flight to Cedar Rapids, Iowa, where she is to hold a rally.
The wireless internet aboard "Hill Force One" was malfunctioning, so aides were not aware of the news until landing, according to the BBC team on the plane.
Mrs Clinton ignored shouted questions from reporters as she disembarked from her campaign aircraft.
At a rally in Manchester, New Hampshire, Mr Trump told a cheering crowd: "They've reopened the case into her criminal and illegal conduct that threatens the security of the United States of America.
"Hillary Clinton's corruption is on a scale we've never seen before. We must not let her take her criminal scheme into the Oval Office."
The revelation that she broke federal rules by running her own email server out of her home in upstate New York and handled sensitive information has damaged her trustworthiness ratings with voters.
Who is ahead in the polls?
The House Judiciary Committee Chairman Bob Goodlatte said it's clear Mrs Clinton "committed wrongdoing and jeopardised national security".
"Now that the FBI has reopened the matter, it must conduct the investigation with impartiality and thoroughness," he said.
Kellyanne Conway, a spokesman for Mr Trump, said on Twitter, that "a great day in our campaign just got even better".
Paul Ryan, the highest-ranked elected Republican, called the decision "long overdue".
He renewed his call for the Director of National Intelligence to halt classified briefings for the Democratic candidate.
"Yet again, Hillary Clinton has nobody but herself to blame," the House of Representatives Speaker and Wisconsin congressman said.
"She was entrusted with some of our nation's most important secrets, and she betrayed that trust by carelessly mishandling highly classified information."
---
Predict the president
Hillary Clinton email probe reopened by FBI director