Gilead Sciences Inc. posted third-quarter profit that missed analysts' estimates amid steadily declining sales of its hepatitis C drugs, though it isn't rushing to fill its pipeline with deals.
While Epclusa, the company's newest drug for the potentially fatal liver infection, outperformed expectations, sales of hepatitis C treatments overall totaled $3.33 billion, Gilead said Tuesday in a statement, lower than the $3.66 billion average projection. About 119,000 hepatitis C patients started on a Gilead drug in the third quarter, compared to 151,000 a year earlier, according to a slide presented in a conference call with analysts.
"A key objective for Gilead is to appropriately raise disease awareness," Chief Operating Officer Kevin Young said on the call. Gilead has started educational campaigns in the U.S. and Japan, and recently launched a new television advertisement in the U.S.
Gilead shares have taken a beating as revenue slips from its hepatitis C franchise, which includes the Harvoni and Sovaldi treatments. While the two drugs are among the top sellers ever, Gilead can't maintain its initial rate of new prescriptions, and competition from Merck & Co. and AbbVie Inc. has forced it to offer major discounts to health insurers. The company disappointed shareholders in July when it lowered its full-year product sales forecast.
Quarterly profit excluding one-time items was $2.75 a share, missing the $2.85 average of analysts' projections compiled by Bloomberg. Revenue dropped 9.6 percent to $7.5 billion from a year earlier, in line with estimates of $7.47 billion.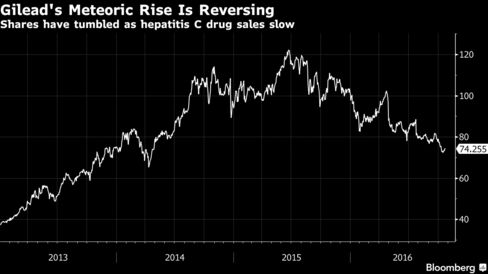 Gilead shares lost less than 1 percent to $74.07 in late trading at 7:26 p.m. New York time. Investors were likely mollified by the company's affirmation of its previous guidance for the year, according to Barclays analyst Geoffrey Meacham.
"We view the unchanged guidance as biggest initial 3Q16 takeaway," he wrote Tuesday in a note to clients. Investors' primary concern "was that the pressure from declining HCV sales would drive the 2016 revenue outlook down."
Despite the slowing sales in hepatitis C, Chief Executive Officer John Milligan said he would not rush to do a deal for new drug candidates. While Gilead has been looking for acquisition opportunities, potential assets have either been too early-stage in development or too expensive, he said.
'Remain Disciplined'
"We're going to remain disciplined and keep the bar high," he said on the call. "You don't want the sense of urgency to overwhelm your discipline. You'll do things that don't make long-term sense."
The biotechnology firm, based in Foster City, California, has a pipeline of experimental drugs targeted at potentially lucrative treatments for a liver disease called NASH and inflammatory disorders such as Crohn's disease. Not all have worked out. Gilead is ending its development of an experimental treatment, simtuzumab, that it was testing in NASH, Chief Scientific Officer Norbert Bischofberger said. It is also ending its trial of experimental heart drug eleclazine in ventricular tachycardia and ventricular fibrillation, though the treatment is continuing in tests for other indications.
"The very nature of R&D is that you often face both closures and progress," Bischofberger said.
More details of the company's third-quarter results:
Third-quarter net income fell 28 percent to $3.33 billion, or $2.49 a share; analysts estimated $3.59 billion, or $2.70.
Harvoni sales dropped 44 percent to $1.86 billion; analysts predicted $2.35 billion.
Sovaldi sales declined 44 percent to $825 million; analysts estimated $993 million.
Epclusa, the newest drug in the hepatitis C franchise, generated $640 million in sales; analysts estimated $317 million. That included a "small, yet noticeable warehousing effect," a boost that comes when doctors hold back on prescribing drugs for a patient as they anticipate a new drug coming to market, according to Gilead.
HIV drug Truvada posted $858 million in sales, down 5 percent; analysts expected $903 million.
HIV drug Genvoya, approved in November, had $461 million sales, beating analysts' estimates of $376 million.
Gilead Quarterly Profit Misses on Low Hepatitis C Drug Sales – Bloomberg