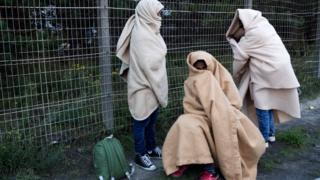 Migrants left in the Calais Jungle area have been allowed to sleep in some shelters that remain standing at the site, reports say.
Aid groups are providing blankets and food to at least 70 people, including dozens of minors.
The British government has reminded France that it must "properly protect" children after many youngsters slept rough on Wednesday night.
More than 5,800 people have been evacuated from the camp this week.
This includes 226 adults and 16 minors that left on coaches in the last 24 hours, the Agence France-Presse news agency reports.
Read more on this story:
The camp is now almost completely deserted. Demolition work continues and authorities have vowed to completely clear the site by Monday.
Migrants fleeing war and poverty had used the sprawling site as a staging post to try and reach the UK.
It had been seen as a key symbol of Europe's failure to deal with the worst migrant crisis since the second world war.
Local authorities declared the resettlement operation over on Wednesday, but charities have said the announcement was premature, given those still roaming the site.
"You can't say the operation is over when there are people left," said Anne-Louise Coury of Doctors Without Borders (MSF).
"The state still has a serious obligation towards migrants who are minors."
At least 1,500 minors are being housed in a special container camp at the site, which is full. The rest of those evacuated have been taken to reception centres around France, where they are being processed and will be able to apply for asylum.
Save the Children said dozens of children have been exposed to "serious amounts of danger" during the clearance process. Some might have run away on their own, the charity warned.
"We may never know where they've gone," aid worker Dorothy Sang said.
UK Home Secretary Amber Rudd spoke to her French counterpart Bernard Cazeneuve earlier to "stress the need for children who remain in Calais to be properly protected", a Home Office spokesperson said.
More than 200 minors have arrived in the UK since 17 October. Transfers are continuing.
Aid workers believe that hundreds, or perhaps even thousands of migrants might have fled the area before the clearance operation began on Monday.
But Pascal Brice, head of the Office for Refugees and Stateless People, said on Wednesday that everyone who had left the site had been registered by authorities.
Caroline Gregory of Calais Action, a British charity, said about 100 unaccompanied children had been left in the camp overnight on Wednesday.
"I spent the entire night here," one young Afghan told the AFP news agency. "I am in the queue for minors to go to England. I have family there."
Fabienne Buccio, the prefect of the Pas-de-Calais region, said that some of those who had slept in the camp overnight had travelled from other parts of France.
She also said the number of minors who slept rough on Wednesday night had been 68, and that they would be moved to centres elsewhere in France.
What is the Jungle?
---
Area cleared
in early 2016
The Jungle camp is near the port of Calais and close to the 31-mile (50km) Channel Tunnel
Officially about 7,000 migrants live in the camp. The Help Refugees agency said the final population ahead of its demolition was 8,143
The camp was halved in area earlier this year but the population continued to rise, and reports of violence have increased
Many migrants attempt to hide themselves in cargo vehicles entering the Channel Tunnel
The area has been hit by protests from both locals and truck operators
---
A note on terminology: The BBC uses the term migrant to refer to all people on the move who have yet to complete the legal process of claiming asylum. This group includes people fleeing war-torn countries such as Syria, who are likely to be granted refugee status, as well as people who are seeking jobs and better lives, who governments are likely to rule are economic migrants.
Calais 'Jungle' stragglers and minors spend another night at camp